IT service MANAGEMENT: ITIL for Small Business
Integrated Incident, Problem and Change Management.

Create a highly effective IT Service Management function by clearly differentiating the three core ITIL processes. Rely on Vector ITSM to manage the progression from Incident management, through Problem analysis, to Change implementation, with clarity and efficiency.

ITSM/ITAM Fusion

Your IT service management will only reach maximum effectiveness if your support team has on-demand access to detailed information on the configuration and installed software of user PCs. Either configure Vector ITSM to exploit SQL-accessible data in your current inventory database, or implement the IT Asset Discovery that comes with Vector ITSM.

Universal SMB/SME pricing

For up to 150 managed systems and up to 5 concurrent helpdesk and analyst users, Vector ITSM's pricing is equivalent to $25 per analyst per month.

If the functionality matches your needs, your CFO can't argue.

Dashboard

Everyone in your team should have a personalized Vector ITSM Dashboard to keep track of the service management performance indicators most relevant to them. Simply select from the library of over 50 performance widgets.

Service Catalog

Document all the services that IT provides to the organization. Maximize exposure of IT's value by involving user department managers in defining the service levels you commit to for each one. Connect your Service Catalog and Change Management to ensure it is always current.

Customizable, Multi-Level SLAs

The sophistication of your Service Level Agreements impacts on how IT is perceived by the organization. Demonstrate flexibility and reactivity by defining multiple service levels to match combinations of user and service significance. Set email at Gold level for Sales users and Silver for Admin.

Controlled Escalation

Controlled escalation is how Vector ITSM ensures that incidents are resolved within SLA targets. Within each SLA level, Vector ITSM asserts fine grained control over how an issue is escalated, using time period thresholds to trigger changes in status settings and actions such as emails.

Task Management

Provide clear direction and avoid wasted time and effort in your Problem Analysis and Change Implementation teams by creating, tracking and managing detailed tasks for resolving specific problems. Keep control of complex problem analysis activities with Task Management by allocating people and time to each item.

Change Approval

Nominate people to be involved in approving a change proposal. Vector ITSM distributes the request for approval by email and chases responses before the request deadline. Alert individuals to new approval requests through their Dashboard. ITSM supports multi-level approval – make sure all the operational participants have responded before asking for CIO approval.

Time Recording

Take your ITSM performance monitoring and charge-back to the next level by capturing time spent on any activity. Whether the user is working in Incident Management, Problem Analysis or Change Implementations, activity timings are integrated into the Issue History and available for Chargeback calculations. Use the Timer stop/start button, or the default Timer stop/start triggers.

Team Working

Make the most of the skills of your staff by defining specialist Teams to which Incidents can be automatically routed depending on their Subject and/or Content. Review team performance through the Vector ITSM report suite and encourage excellence through competition.

Issue Activity Log

Vector ITSM maintains a complete history of how an Incident has been serviced. Record emails, conversations, decisions and actions to provide traceability of how your team handled every Incident.

Batch Issue Update

Save time and streamline your Issue updates with this handy ability to group Issues together for update. Batch issue update is typical of the advanced usability features of Vector ITSM, saving time and encouraging accurate status recording.

Self-Service Portal

Provide suitable sections of your end-user population with access to the status of any Incidents they have reported. Provide responses to some of the most popular questions through the Frequently Asked Questions and Knowledgebase. Use FAQs and KB equally to support your analysts in their use of Vector ITSM!

Branding

Increase user acceptance and motivation by exploiting Vector ITSM's theme-based customization.

KPI Reporting

Monitor and publish any aspect of your organization's ITSM performance. Long term trends, last week's performance. Across the whole group, for a specific application team, for an individual analyst. Select from a library of over 50 interactive Web-based reports, with Excel, csv and PDF export options. Optionally, use your favourite BI tool to access and exploit the rich data held in your Vector ITSM database.

Configurable UIs

Create the user interfaces that match your organization's business practices. Context sensitivity in tabbed views and individual fields keep UIs relevant and easy to work with. Use the Web-based Field Editor to modify UIs without interrupting users. Choose from the KPI Library to create individualized Dashboards for any ITSM stakeholders.

Configurable Workflows

Control the allocation of resources, issue queuing and SLA assignment to match your organization's business practices. For issues reported by email, Subject and Content analysis facilitate automated issue assignment wherever possible.

Rich Email Integration

Maximize the intelligence and automation in your IT Service Management function. Vector ITSM analyses Sender, Subject and Content to prioritise and route incoming emails. Sophisticated templates streamline responses. Vector ITSM comfortably integrates with multiple email servers in dispersed organizations.

Multi-Company, Multi-Site support

For multiple sites in a single organization, simply use a Site field to manage issues. For enhanced data security, service providers can maintain separate issue repositories when supporting multiple customers. Data access is controlled on an analyst by analyst basis.

SOA style integration with enterprise apps

Ensure your ITSM is future proof in today's increasingly cloud-based enterprise IT. Whether your Vector ITSM is locally or cloud hosted, its SOA-based integration API ensures it can interact with cloud based applications such as CRM.

AD Integration

Achieve precise alignment of user data held in Vector ITSM with your Active Directory (or your LDAP repository). Define Account Import Rules on a per-server basis; control the mapping of individual fields and synchronization of data.

VoIP Integration

Impress your incoming callers! By integrating with VoIP and caller ID, Vector ITSM can extract contact information the instant a call arrives. This dialog is shown when a contact calls, giving the analyst a heads up on the caller's details and open issues.

MS Dynamics (Great Plains) Integration

Import user information from one or more MS Dynamics (Great Plains) databases.

Integrate with Contract Management

Vector ITSM provides a repository for supply and maintenance contract information, particularly for Software Licenses and Maintenance. Your team will need access to contact and maintenance status information when involving suppliers in resolving software and hardware problems.

KnowledgeBase

Construct any number of specialized Knowledge Bases, whether for aspects of IT or any other category of knowledge important to the organization. User read-only access to KnowledgeBases needs no licensing.

FAQs

Vector ITSM installs with an initial set of Frequently Asked Questions relating to the HelpDesk module. Streamline your IT support by extending the FAQs to cover popular support requests or any other areas of the organization's operations.

Issue History Audit Trail

Raise the performance and internal compliance profiles of your IT Service Management by maintaining audit trails of all activities. Demonstrate responsiveness and adherence to security policies through the report suite, and provide step-by-step visibility of the activities and communications of an entire Incident/Problem/Change sequence.

Surveys and Satisfaction Indicators

Stay in touch with the user community with the customizable Incident Response survey, and record the user's views within the Incident record.

Managing the Concurrent Licensing in Vector ITSM

Review your license usage at any time and update license information. View and manage current logons.
IT service MANAGEMENT: ITIL for Small Business
Vector ITSM combines the management of ITIL Incident, Problem and Change Management processes with an IT Service Catalog, hardware and software asset data and software license management. This fusion of IT Service and Asset Management gives the small and medium enterprise an opportunity to adopt ITIL processes at minimum expense and to maximize effectiveness in user support, issue and problem resolution and change management.
Solution Deliverables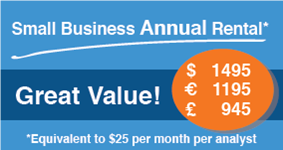 Adoption of ITIL best practices at minimum cost and complexity.
Fusion of IT Service Management with core IT Asset Management functions in a bundle matched to the needs of small and medium enterprises.
Service SLAs defined and managed in a Service Catalog.
Increased IT end-user productivity through rapid Incident resolution.
Maximized support and help desk efficiency.
Reduction in help desk and support staff turnover.
Help desk performance monitored against agreed service levels.
Help desk activity information for user charge-back.
Long term support performance measurement for pursuit of continuous improvement.
Solution Highlights
The heart of Vector ITSM is the integrated set of ITIL-aligned processes for IT Incident, Problem and Change Management. Use the powerful and highly configurable issue escalation, workflow management and email integration features to track the toughest desktop support challenges through to resolution.

For further information, see the Vector HelpDesk standalone solution information.

Simplify your team running costs with Vector ITSM's extra-ordinarily simple pricing: an annual rental of $1495, £995, E1195 for any organization of less than 150 IT end users.
Provide your helpdesk staff with PC inventory data in the Incident Management view, including details of installed software, system hardware and configuration, and location on the network right down to which port number on which hub/switch/etc (for managed network devices).

Detailed desktop configuration information is provided by the hardware and software discovery and inventory functionality of the Asset Discovery and Mapping solution.

Use Vector ITSM's SOA oriented integration API to enable Incidents to be recorded by other cloud-based functions such as CRM.
Define the services that your IT team delivers in the Vector ITSM Service Catalog, then organize and manage the SLAs and other performance indicators for each service.
Use Web-based reports to interrogate your service management history and review performance trends. This ability to understand how performance is changing over time is a key component of the ITIL approach to incident management.
Retain an unequivocal record of the efforts made to solve any given problem; Vector ITSM's detailed tracking of issue resolution activities interweaves email exchanges with the record of support activity.
Vector ITSM's reporting of asset detail and change history will in many organizations make it unnecessary to invest in a separate IT Asset Management toolset.
Solution Features in Vector ITSM
Vector ITSM boasts a rich features set, including -
Integrated Incident, Problem and Change Management.
ITSM/ITAM fusion.
Service Catalog.
Customisable multi-level SLAs.
Team working.
Fully configurable UIs and workflows.
Rich email integration.
SOA style integration with enterprise cloud apps.
Inbuilt time recording for chargeback.
Issue management audit trail.
Batch issue updates.
Task and team management for Problem investigations.
KPI reporting to drive continuous improvement.
Solution Components in Vector Vector ITSM
Complementary Solutions
Key components of Vector ITSM are also available as point solutions. Vector HelpDesk combines the Vector Issue Tracker engine with the IT Support HelpDesk Template for a complete ITIL oriented Incident, Problem and Change Management solution. HelpDesk can integrate tightly with any SQL-based asset information database with accessible data tables.
Further Information and Resources