PC-Duo PC and Server Remote Control Web Architecture
V12.5 PC-Duo® completes On-Demand architecture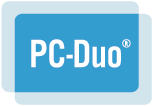 July 3rd 2014 Atlanta GA, Montreal and Birmingham UK — Vector Networks announces v12.5 of the long-standing PC-Duo® PC remote control tool.
The last five years have seen big changes in the challenges faced by IT support teams. Where before the main challenge was the range of applications to be supported, now there are multiple platforms in use as well. Today, the majority of support teams look after a mix of preconfigured desktops for their main population of users and a variety of laptops and other BYOD Windows devices in use with senior executives and temporary users such as project consultants.
With the release of v12.5, PC-Duo now has implementation options to suit the most diverse and demanding user support and server management situations. Windows users without the PC-Duo Host agent can make their systems accessible simply by accessing the local PC-Duo Gateway through their browser and clicking the 'Share my desktop' button
Unlike when using alternative vendor-hosted solutions, PC-Duo customers know that their data (which is already totally encrypted) will not be processed by any servers not under their control. And to further protect customer data, the PC-Duo Gateway Server now supports WebSocket (binary WebSocket over HTTP) and Secure WebSocket (binary WebSocket over HTTPS) transports to facilitate connections through corporate firewalls.
Daniel Martz, head of Customer Support at Vector's Montreal office, and Technical Lead on PC-Duo, observes - "PC-Duo Remote Control is one of the most flexible and secure remote control software products available for Windows on the market today. No other remote control product that I've worked with has been able to provide so many solutions for customers, regardless of their network environment, without compromising security."
About PC-Duo
PC-Duo is established in IT infrastructure support roles such as PC User Support and Remote Server Management, and also in safety critical 24/7 duties such as Distributed Process Control and Gas Pipeline Monitoring. The international installed base reflects the product's reputation for flexibility, performance and reliability. Remote control sessions are supported across VPN, WAN and internet infrastructures including slow lines and satellite links as well as high bandwidth LANs.
About Vector Networks
Based in Atlanta, Vector Networks specializes in solutions for desktop asset and service management, change management, issue tracking, and business process automation. Its PC-Duo® brand is synonymous with high-quality enterprise-grade remote control. Vector Networks solutions have been installed and supported in over 20 countries since the company's formation twenty years ago. With development based in Montreal and a highly mobile sales and support team, the company understands the needs and challenges of multi-site organizations.
For further information, visit www.vector-networks.com, or contact the company at solutions@vector-networks.com.
Media Contact:
Elyse Fox
Efox@vector-networks.com
Phone: +1 678 391 3760