Technical Information
Integrating Licence Manager Pro
Integrating Licence Manager Pro with the Asset Manager Pro Database and Active Directory
Integration Overview
The integration between the Asset Manager Pro software inventory and software usage databases and Licence Manager Pro is designed to be as simple as possible and to not make either module dependent on the other. Both should retain their intrinsic benefits and business cases.
In particular, the Reporting Portal in Asset Manager Pro continues to provide the drill down reporting capabilities that support the complementary activities of Software Licence Compliance and Software Asset Optimisation.
One of the commonest problem areas in software asset management is variability in naming for vendors and their applications. As both Asset Manager Pro and Licence Manager Pro need to hold this data, integration focusses on reconciling the tables held in each module to ensure consistency.
The second key integration is to use the real-time activity of triggering a licence purchase in Licence Manager Pro to update the corresponding License Entitlement field in the AM Pro database. This ensures that any reports run in the Portal, or any Application Policy Manager analysis, are up to date and reflect current licence entitlement.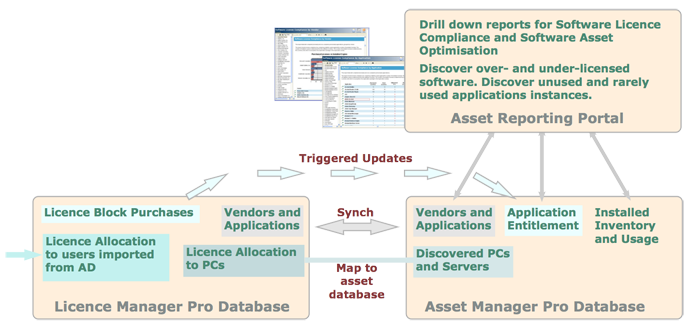 AM Pro/LM Pro INTEGRATION: CONFIGURATION STEPS
Connecting LM Pro to the AM Pro Database
Open the Issue Tracker Web Admin from the Windows start menu and select the Inventory tab.
From here select the LicenseMaintenaceContracts project and press "Link" to provide details of your Access or SQLServer Asset Management database.
This process allows Licence Manager Pro to see Computers and Applications discovered using Vector AM.
Importing User and User Groups from Active Directory
Open Import User Account from the Windows start menu.
A wizard will allow you to create one or more rules for importing user details.
You may require separate rules for importing users from multiple AD Forests or to apply specific Licence Manager Pro privileges (such as logon via Windows authentication) to particular users.
The import functionality will automatically update user details from your Active Directory at a schedule of your choosing.